Cookie Muncher R5 is a ROBLOX account hijacking program.
CMR5 bypasses 2 step authorization btw
This allows for you to transfer limiteds, robux, and etc to other accounts, in other words, giving you access to an account.
CMR5 is like a RAT, but FUD, meaning undetectable, and when the user downloads it, opens roblox, and opens your Stub[Generated Stealer] it will email you the ticket, in which it will allow you to have access to their account.
This is just like AuthHawk, however the cookies last ALOT longer, and I mean ALOT.
This also displays Robux and the Username of the account.
Video of it in action
UI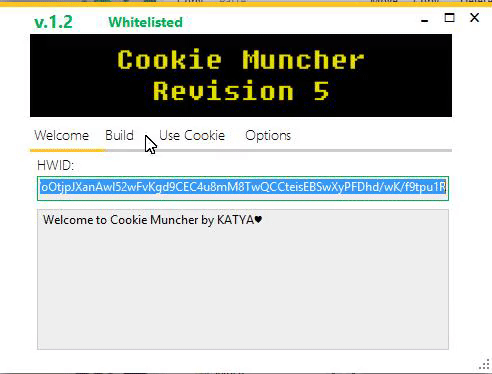 To purchase for 12$ via PayPal Only[PRICES WILL CHANGE]! Go to this discord: 
Click me!
Or you can purchase this with 
CMR5Pro
 for 15$
ONLY BUY FROM Widowmaker! ([CMR5 Creator]Sombra♥#7480 on discord)
TOS
No Building Stubs For Others
No Posting on V3RMILLION and Vetro
CookieMuncherR5 is HWID whitelisted, meaning it only works on your PC.
hope you buy! Personne n'échappe à mon regard. -Widowmaker-
This was copied from 
V3RM
If there is any problems about the post or want me to take it down plz just msg me!